Real Food . Made fresh
Vet Approved . Human-Licensed Kitchen

Our food uses human-grade ingredients and is
crafted for your pet in complete and
balanced recipes following the AAFCO standards.
Why Fresh?
High-Quality Meat-Based Proteins

Real meat is the primary source
of protein in every Ollie recipe in
every one of our recipes to help your pet
maintain and build strong muscles

Leafy Greens & Root Vegetables

From spinach to sweet potatoes,
veggies are a rich source of
dietary fiber for digestive health
(better poops!).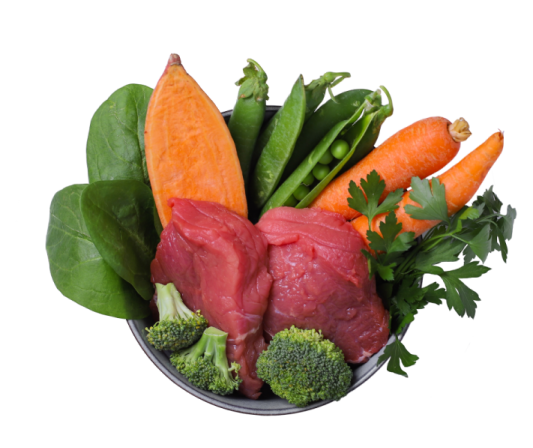 Boosting Seeds and Oils

Fish oil, flax and other seeds bring a nutritive kick that provide your pet with important vitamins, antioxidants, and fatty acids like Omega-3 & Omega-6

Plant-Based Protein

Peas and lentils go hand-in-hand
with meat-based proteins,
offering a balance of essentials to your pet
Personalize


Select the perfect plan for your
dog based on expert advice.

Cooked


Meals are pre-made and pre-portioned
based on the pup's profile you create.

Delivered


Food is delivered to you
within days of cooking.
Our Food
Pick & choose between our
different recipes, all perfectly
balanced for you friend with paws.
`
Our Customers Noticed

wilson.tobias
I've been eating PawPots for several years. My pawstie Arya was rescued in May 2019, and while she was eating kibble at first, switching to PawPots has had a tremendously positive impact on her coat! Her hair became shiny and started growing again, her fluffy tail is back from the hairless state it was in before. No more bad hair days!

m4cko2020
I'm so happy my pawrents found a pure, healthy, nutritious food option for me! It has a pawsitive effect on my behavior, my fur, and my digestive system! The nutritions inside my meal - all the fibers and proteins - have helped me become more energetic and playful. I'd 100% recommend PawPots's meals!

corgi.caia
Changing my diet to PawPots was the best decision my pawrents made! I wouldn't eat my dry food - I'm a picky doggo! I know finish my bowl in one sitting and bark for more! My body is now in bootiful shape, my coat is smooth and shiny, and my teeth are as white as snow! Most importantly, I'm always energetic and happy! I highly recommend their meals, they get a paw 5 from me!

hippie.sia
I used to avoid meal time at any cost! I started getting thinner, even though I tried a wide variety of dry food... until I tried PawPots! It was an instant love story! Now I'm healthier and always wait at my bowl and hour earlier for my deliciously cooked delicacy!

trixie.the.cutie1
I never liked any dry food. I used to stay 2-3 days without eating. MY skin color was dark and I had low energy, I couldn't even learn pawsome tricks! Luckily, my mommy found PawPots! To my picky surprise, I started eating more! I never get bored of my food. My color and weight improved greatly! I'm a smart energetic ball of fluff again! The PawPots team love their furry friends!

kira.da.akita
I highly recommend PawPots! I'm 4 months old and started young - and so can you! My favorite meal is the Mighty Chicken, full of all my favorite ingredients - from meat to vegetables! It keeps me full and energized and makes my coat shiny! Us Akitas struggle with digestive issues, but PawPots helps regulate it with their high-quality ingredients, needed for a healthy gut. Thank you for keeping me full and healthy!
Highly recommended! I have 5 dogs and 5 cats and they couldn't agree more. Keep it up! You guys are the best!
Rachel El Khoury Margarossian
Meg & Prince love PawPots! Great Customer Service, always helpful and on-time for deliveries!
Helissa Naman
Yogi gets so excited when it's meal-time! He finishes his meal to the last piece licking the bowl clean!
Chirine Soufan-Ajami
Recently switched to PawPots... my dog is happier and more energetic than I've ever seen her before!

Lama Assaf
Give back the love
Show your love to your pets with our high-quality, delicious and healthy meals!
Build Your Plan